The story of School
About Us
THE BEST AND MOST COMPREHENSIVE WAY TO LEARN
North Shore Oahu Surf School
WE AT
SURF SCHOOLS HAWAII
PUT SAFETY FIRST WITH OUR FULL STAFF HAWAIIAN OCEAN LIFEGUARDS. WE AIM TO INSURE YOU A SAFE AND FUN EXPERIENCE WE CHOOSE THE MOST OPTIMAL BEACHES TO TEACH OUR LESSONS AND RUN OUR TOURS. KAILUA BEACH OFFERS THE BEST OF BOTH WORLDS, AMAZING VIEWS ALONGSIDE ONE OF THE MOST FRIENDLY BEACHES IN THE WORLD TO LEARN HOW TO SURF, BODYBOARD OR STAND UP PADDLE. FROM THERE WE TAKE YOU TO THE NORTH SHORE OR OAHU, WHERE THE NAME MIGHT ITSELF MIGHT SCARE YOU BUT ALL SUMMER LONG IT IS LIKE A LAKE WITH FUN BEGINNERS WAVES TO BE FOUND AT EVERY CORNER AND IN THE WINTER WE HAVE OUR SECRET SPOTS TO TAKE OUR GUESTS. IN LAIE HAWAII ON THE NORTH SHORE, LET
OUR QUALIFIED STAFF SHOW YOU THE GEMS OF THE ISLAND OF MAUI WHICH YOU DOWN WIND PADDLE OF LEARN TO CATCH YOUR FIRST WAVE. IF YOU DON'T HAVE FUN, LUNCH IS ON US. YOU WILL HAVE THE TIME OF YOUR LIFE HANGING OUT WITH OUR TOP NOTCH WATERMAN AND WATER WOMEN FROM THE PROFESSIONAL LIFESAVING FIELD OF WORK. ALL
OUR INSTRUCTORS
HAVE YEARS OR OCEAN EXPERIENCE AND MOST ARE CERTIFIED WORKING LIFEGUARDS WHILE ALL HAVE LIFEGUARD TRAINING AND CPR CERTIFICATIONS. MAHALO FOR CHECKING OUT OUR SITE AND WELCOME TO HAWAII NE! E KOMO MAI~
Hawaii has two distinct surfing seasons with winter swells hitting the north shores of all islands between November and March and during the summer season between June and October all the action moves to the south shores of the islands.
The North Shore and South Shore both have great surfing conditions on Oahu. Waikiki Beach holds excellent year round surfing for beginners, heaps of surf schools and board hire places. Kailua Oahu is our main stomping grounds and another amazing spot for beginners and again you'll find a good selection of experienced surf instructors, surf schools and tours with Surf School Hawaii. We meet you depending the conditions and your location so there is no reason not to call on one of our instructors to help you get familiar with ocean!
Surfing was the sport of choice for the ancient Hawaiian kings and has since evolved into a world wide phenomenon. Anyone who has ever felt the rush of dropping in on the face of a wave will tell you its the greatest feeling in the world. We recommend a rash guard or UV shirt, board shorts or bathing suite, plenty of sunscreen and lots of energy. We'll show you how to read the waves, basic surf etiquette, techniques for paddling, standing and carving on a wave.The Eastside of Oahu can have good surf year round, but conditions do change. Check the Surf Forecast to see the latest wave predictions.
Surf locations include Big Island, Waikiki, Kauai, Lanai, Maui, Molokai,Kailua, Oahu East and Oahu West Islands.
Have questions and want to speak to us directly? Give us a call or shoot us an email!
Email: surfschoolshawaii@gmail.com
Phone: +1 808-255-8671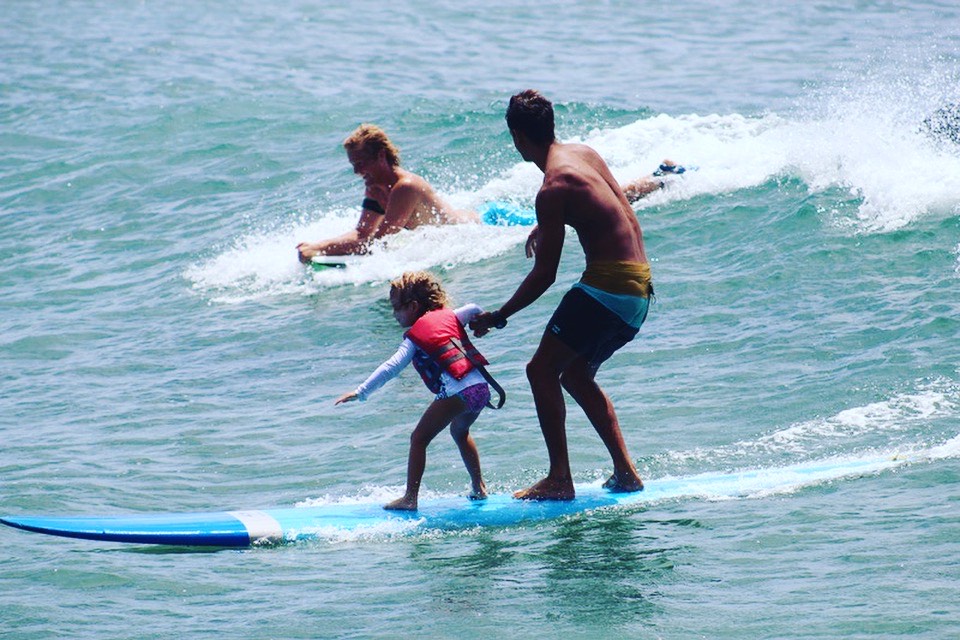 A

Knowing CPR and First Aid.

A

Knowing personal limitations and how to safely save someone from drowning

A

ARC CPR/First aid and bleeding control certification

A

SURFING, Kayaking, snorkeling, basic free diving, and rock running.

A

Open water rescue techniques based on USLA and Hawaii Lifeguarding best practices for shore break c-spine extrication.

A

Rescue board techniques

A

Rescue tube rescues

A

Introduction to Jet Ski ( special activities ) dolphins tour boat cruise and free dive.